Star Global Advanced IT Corp. Ltd.
t: 250.381.2800
f: 250.381.2806
toll free: 1.877.381.2800
contact us


Portfolio
"Because We Don't Produce the Same Website Twice"
Database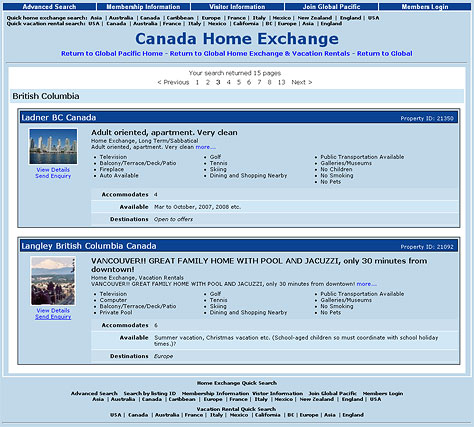 Global Pacific Vacation Homes
Tourism
Global Home Exchange / Global Pacific Vacation Homes provides a network of home exchange and vacation rental properties with thousands of listings in every continent on the globe. Members pay an annual fee to receive all the features and benefits Global Home Exchange provides.
The problem was the web site had grown very large and was nearly impossible to manage. Star Global was approached to provide a conversion to a more easily manageable database driven website.
An online sign up form was created to add new listings directly into the database so no re-keying was required. Listings were made cross-indexed under location and their details such as amenities, price range, etc. The users, once they are approved, and have paid for their listing to be placed, can login online to change their vacation home details, and upload photos.
For home exchangers, they can specify what part of the world they would like to exchange homes in. Specifically for home exchange, web site visitors can search who wants to come to their location. For example, a person with a home in New York can find which Home Exchange members would like to go to New York. The Global Home Exchange administrator can approve new listing and edit details on the member's behalf.
As well, home exchange members may receive messages through their Global Home Exchange page. The actual e-mail address is not divulged, so it is not easily harvested by spammers. Members can view their messages online through the web based interface as well. The Global Homex administrator has spam blocking capabilities, to deter spammers from sending spam and scams through members online request forms.