Star Global Advanced IT Corp. Ltd.
t: 250.381.2800
f: 250.381.2806
toll free: 1.877.381.2800
contact us


Portfolio
"Because We Don't Produce the Same Website Twice"
Web Design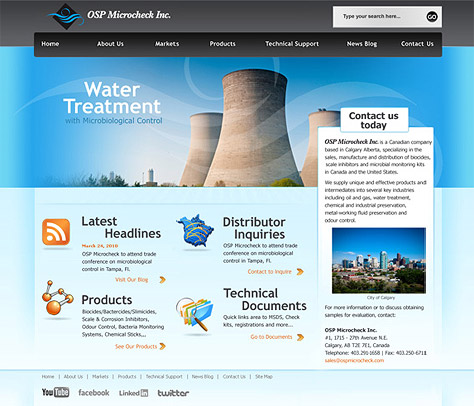 OSP Microcheck
Manufacturing
Calgary, Alberta
OSP Microcheck Inc. is a Canadian company based in Calgary, Alberta, specializing in sales, manufacture and distribution of biocides, scale inhibitors and microbial monitoring kits in Canada and the United States. They supply unique and effective products and intermediates into several key industries including oil and gas, industrial water treatment, chemical and industrial preservation, metal-working fluid preservation and odour control. OSP Microcheck had an older website that needed a whole new look and feel, along with some modern comforts of a Wordpress CMS system for self-managing and self-publishing, while connecting to various point of social media. An additional benefit is that the entire web is key word searchable, a huge benefit for a company that publishes vast amounts of documentation for its products.